Shipping Routes from Turkey to Jordan and Best Companies 2023
Shipping Routes from Turkey to Jordan
Jordan and Turkey are role models in strategic partnership at all levels, and the economic partnership between the two countries is one of the most important types of partnerships that have seen significant growth in the volume of trade and economic exchange in recent years.
Trade between Jordan and Turkey has recently reached $1 billion, with Turkey and Jordan having more than 50 cooperation agreements in various fields and the volume of Turkish direct investment in Jordan and the volume of Jordanian direct investment in Turkey.
Understanding and harmony between the two countries have boosted the activity of trade between Turkey and Jordan, making Jordan one of the most important Arab countries importing a lot of Turkish products, and Turkey imports from Jordan a lot of different raw materials.
Turkish products are exported to Jordan through two shipping methods:
Sea Shipping from Turkey to Jordan
Sea shipping is the most important route used to ship and transport goods from Turkey to Jordan; cargo from all Turkish ports departs towards the Mediterranean Sea, and then to the Jordanian port of Aqaba in the Red Sea via the Suez Canal.
Shipping from Turkey to Jordan is the cheapest type of shipping, relying on a commercial container transport system that accommodates as much cargo as possible.
Air Freight from Turkey to Jordan
Turkish goods to Jordan are transported by air freight through Istanbul's Ataturk Airport, dedicated to air freight and logistics, and is one of the fastest transport and shipping routes.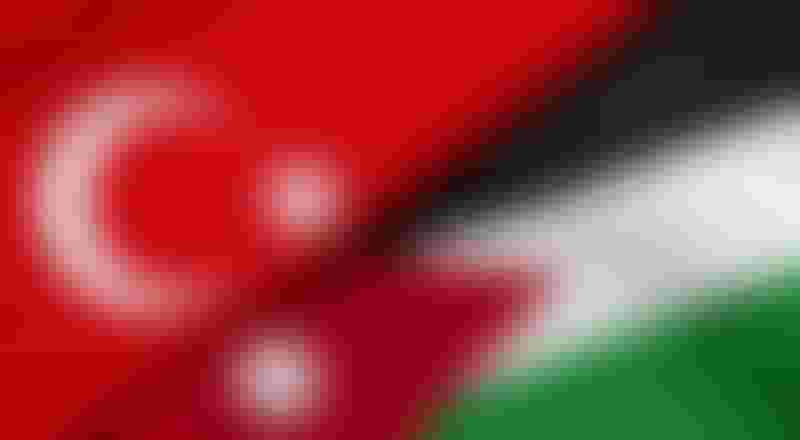 Prices and Shipping Costs from Turkey to Jordan
Due to the short distance between Jordan and Turkey, countries located in the same geographical region, and Jordan is only two and a half hours away from Turkey by plane, the prices and costs of shipping from Turkey to Jordan are relatively cheap.
Competition from companies involved in transportation, shipping and export from Turkey to Jordan offers many opportunities and offers for competitive transport and shipping prices, so Tebadul International Trade offers the best shipping offers from Turkey to importers to all countries around the world, including Jordan.
Shipping Conditions from Turkey to Jordan and Required Papers
Tebadul International Trade serves importers in an integrated manner, including processing goods imported from Turkey for shipment and fulfilling shipping and customs clearance requirements.
Therefore, Tebadul International Trade considers the shipping requirements from Turkey to Jordan and processing the required papers is a trust that falls within its responsibilities to its customer. 
What are the Best Shipping Companies from Turkey to Jordan?
International and domestic shipping companies are active in Turkey as Turkey is a logistics hub for supply lines and world trade traffic, due to its distinctive geographical location and advanced infrastructure.
In line with the Turkish government's plans to increase the country's export and production volume, shipping companies in Turkey are competing to offer the best offers and services to importers.
Tebadul International Trade is one of Turkey's leading shipping and brokerage companies, which serves importers, with experience in the international trade and export sector, and offers unique opportunities and offers in the prices and costs of shipping and export from Turkey to Jordan.
Tebadul International Trade in Turkey puts the Turkish market with all its products in the hands of all importers around the world, and provides the best options at the best prices, building and strengthening trust partnerships between it and the importer from Turkey by providing the best services.
Tebadul International Trade works to export products from Turkey to its imported customers around the world with complete professionalism. It works on tracking products and matching them to specifications step by step and keeps up with customers with detailed shipping reports.
 It tracks the route of arrival until importers receive the goods sound and complete with the required specifications without any problems at competitive and exclusive prices.
Edited by Tebadul International Trade
Did you like our topic? You can share it with your friends
Get Best Services By Register With Tebadul